This morning was a tiring one. Running on three hours of sleep was exhausting, until I heard how many hours everyone else got. We all met up at El Cerrito High School with tired, cold looks on our faces. It was fun to reunite with everyone and catch up with everyone. As soon as everyone arrived, Don gave us instructions about our trip and had us take one group picture – or a couple. The shuttle came afterwards, but it was smaller than what everyone expected. There is a total of ten of us, and the shuttle was only able to fit ten, including the driver. Don was definitely not pleased with our shuttle and said that if we were cramped, we would not board the shuttle. I was somewhat nervous about the final outcome, but we were able to ride the shuttle with the additional Don van with us.
Carpet Coffee
As we made our way on the freeway, we arrived at SFO, San Francisco Airport. I was ecstatic about our arrival because I haven't been on a plane for a solid three years. We all stood in line to check in our luggage and off we went. My luggage was ONLY 41 lbs., so I was good to go. We went past through security, but the odd thing is that the TSA official asked me my age. I don't know what the reason was, but once I told her, she signed my boarding pass. I was with Muang Chao, Jenny Gilbert, Sierra Lee, and Izabel Rodriguez. The funny thing is that the other five had a TSA free pass. They waited for awhile and once we regrouped, it was time for breakfast.
At this time, it's around 5 o'clock and we went to get some coffee. I'm not a huge coffee fan, but after getting a free drink I was ready for anything. After our purchases at Peet's Coffee, we went to get some breakfast food. I got a grilled cheese sandwich that I was happy to enjoy. But then, I accidentally spilled my coffee on the carpet before boarding. It was because I placed my coffee on top of my carry on, since I had too many bags to carry in. After fitting my bag into Cynthia's bag, I instantly took off and the coffee spilled. I felt horribly right after, and apologized. I like to call this moment, carpet coffee because it is a nice alliteration. We then boarded our small plane after 30 minutes, and off we went.
The plane ride to Chicago was not so bad. We had some turbulence here and there, but I enjoyed it. It was fun to see YeonSoo and Muang freak out ever so often. When our plane landed, we quickly made our way to A15, which was across the airport.
At this moment, I'm feeling somewhat tired since I didn't nap on the previous flight. When we reached the gate, we quickly made our way to some seats. Some of us got separated, but I'm currently sitting next to Izabel and Cynthia. From left to right, YeonSoo, Maria, and Magaly are in front of us.
The take off of this flight was faster than the other plane, and there was more turbulence. I was having the time of my life because the airplane ride reminded me of roller coasters. We all had a moment of turbulence, and laughed it off. Izabel was sleeping for most of the time, due to her stomach ache, and Cynthia discussed to me about her inflated stomach. As we all stayed on the flight, it finally landed. We all got out, found our luggage, and got into a limo shuttle. I know it sounds cool, and it was because there was an imitation of hardwood flooring. But walking there was a tiring time for me.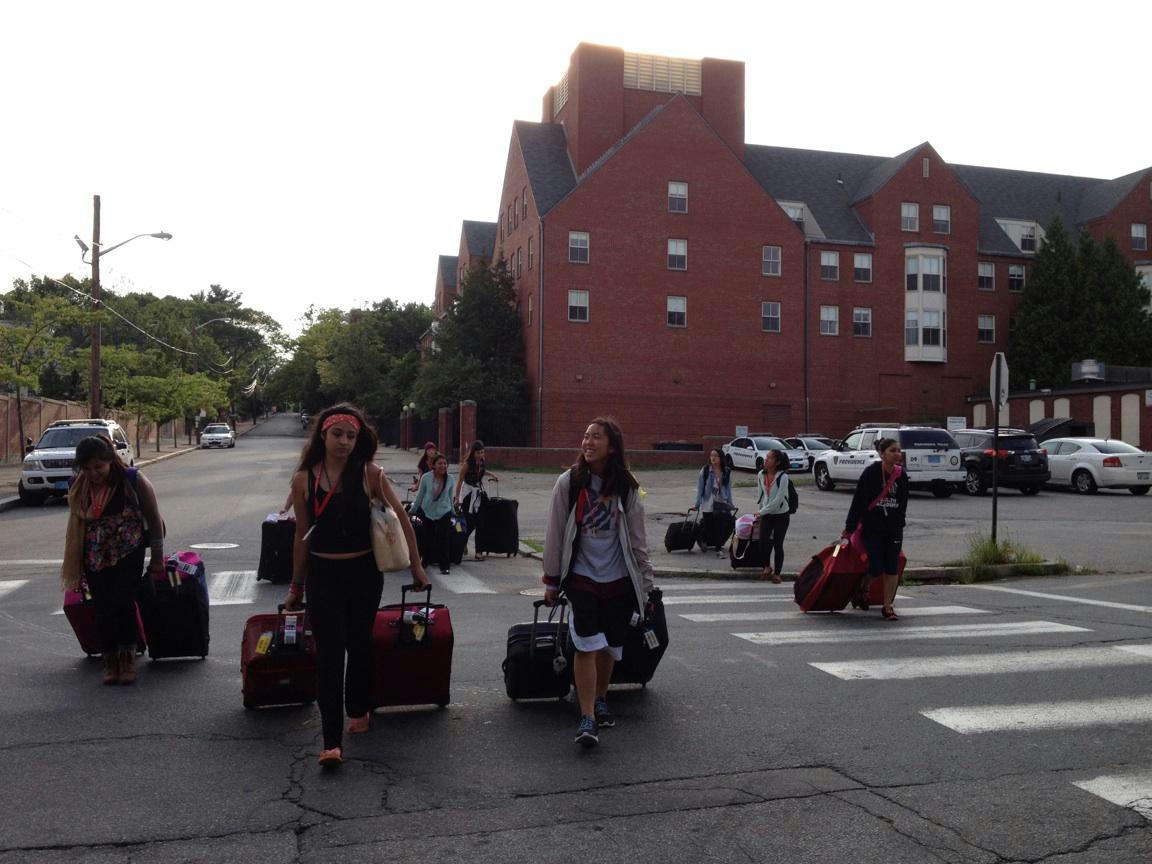 NeMoW struggling to get to Perkins Hall
Twenty minutes later, we arrived at our destination, Brown University. The driver got out our luggage and we made our way to get our ID, and our envelopes with our information. We are all staying at the Perkins Hall, which is a good ten minutes from where we are at. Unfortunately, our driver left us, leaving us with our heavy luggage to walk a good ten minutes to our dorms. I, and everyone else were sweating as we all ascended our way up a hill. This was not a cool experience, and once we got there, we had to carry our luggage up the treacherous stairs. It was so heavy bringing my luggage up three flights of stairs, but it was worth it when I found out that my roommate's stuff was already there.
After cooling down from our insanity workout, we all went to get dinner and enjoy the ice cream social. We all met Jenny with our new friend Louiza and we all went to get fans. It was a bummer to see the fanless rooms, but it was pretty fun. Once we got back to the dorms, I finally met my awesome roommate, Yasmin. She was very generous and energetic. At 9 PM, our floor and some from the second floor met our RA. Our RA is Aida. She is very sweet and informational, and talked to us about the rules and regulations. All eleven of us had a name game, which included a food beginning with the first letter of our name. I was able to meet so many awesome girls, and learned about some informational stuff that was happening during the orientation. It was fun to meet so many girls in the Perkins Hall, and I'm scared that I will forget everyone's name. I can't believe this is real, I'm looking forward to our first day of school tomorrow.
P.S. Our group name is NeMoW, New Might of Women. It is pronounced Nemo, like the adorable clown fish.